My Terminal Settings
Within My Terminal Settings you can configure what fields are displayed in the My Terminal processing screen. 
Note: This is not required to be configured for the My Virtual, My Enterprise or RCCB solutions.
 Display Rules Description
Using the tick boxes to the left hand side of the screen you can choose which fields you want displayed on the My Terminal page and whether the field is a mandatory field. 
Display: The field will be displayed but does not have to be filled in.
Required: The field will be displayed and the field must be filled in to process a transaction.
Ignore: The field will not be displayed.
Illustration: My Terminal Configuration Screen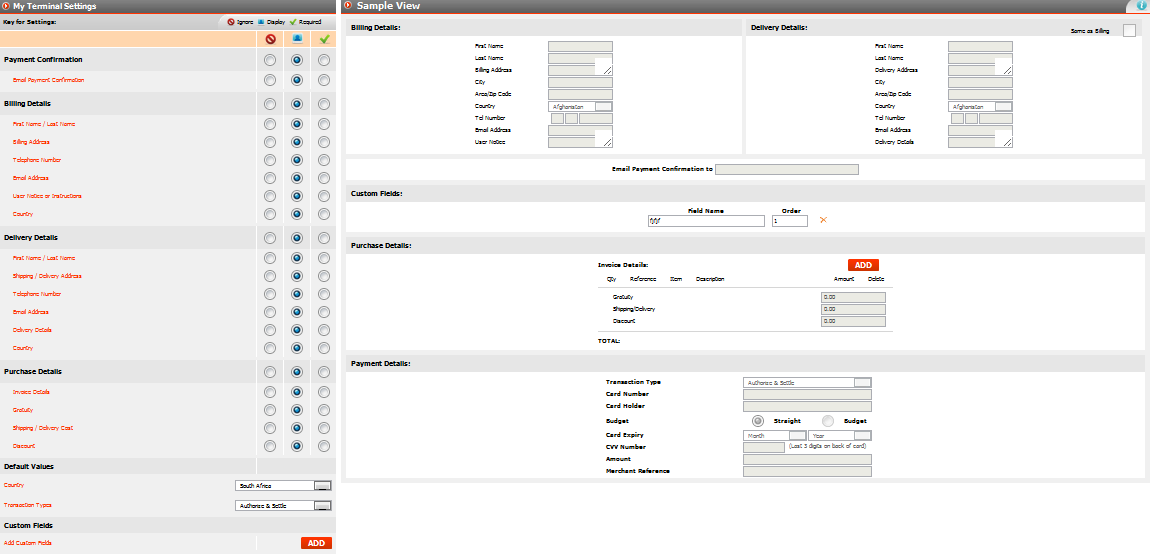 Configuration Field Name Descriptors 
| | |
| --- | --- |
| Field Name | Description |
| Payment Confirmation Header |   |
| Email Payment Confirmation | This will display a text box that the email address can be entered.  When the transaction is processed, a transaction receipt will be emailed to this email address. |
| Billing Details Header |   |
| First Name / Last Name | This is the first and last name of the card holder |
| Billing Address | This is the billing address of the card holder |
| Telephone Number | This is the telephone number of the card holder |
| Email Address | This is the email address of the card holder |
| User Notice or Instruction | This is any additional information required to log regarding this transaction. |
| Country | This is the billing address country |
| Delivery Details Header |   |
| First Name / Last Name | This is the first and last name of the person receiving goods |
| Shipping / Delivery Address | This is the delivery address of the person receiving goods |
| Telephone Number | This is the telephone number of the person receiving the goods |
| Email Address | This is the email address of the person receiving the goods |
| Delivery Details | This is any additional information required to log regarding delivery. |
| Purchase Details |   |
| Invoice Details | This allows you to create line items that you can capture quantity, reference, item, description of a particular item in the order. |
| Gratuity | This is used to capture gratuity amount |
| Shipping / Delivery Costs | This is used to capture shipping or delivery costs. |
| Discount | This is used to capture discount on the order. |
| Default Values |   |
| Country | You can choose the default country that you want to display on the My Terminal processing page. |
| Transaction Types | You can choose the default transaction type that you want to display on the My Terminal processing page. |
| Custom Fields |   |
| Add Custom Fields | You can add custom fields to be displayed on the My Terminal processing page.  You can arrange the display order by entering numeric numbers in the order text box. |